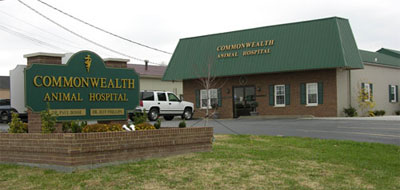 COMMONWEALTH CREMATION
Commonwealth Cremation is a service of Commonwealth Animal Hospital located at 1058 North College Street (Hwy. 127) approximately one mile north of downtown Harrodsburg.
What We Can Do
We will pick up your beloved family pet from your veterinary clinic 7 days a week.
We will perform private or communal cremations at your request.
We guarantee your pet to be ready for return within 1 –2 business days after pickup.
We will treat your pet with the honor, dignity, and compassion it deserves throughout the entire aftercare process.
Our friendly staff is dedicated to making the passing of your family pet as easy on you as possible. We are available to answer any questions you may have.
Cremation Options
No matter which cremation option you decide to choose, the staff at Commonwealth Cremation will handle your pet with the honor, dignity, and compassion it deserves. We believe that the company you choose for the aftercare of your pet is an important one and should be made with a company you find to be trustworthy and credible.
Private Cremation
This type of cremation is where only one pet is placed into the crematory at a time. Once the cremation has been completed, the pet's cremains are removed prior to placing any other pets into the crematory. Private cremations are slightly more expensive than communal cremations and are based on weight of the pet. Cremains will be returned in a standard black, velour pouch with a cremation certificate. Wooden urns are also available for an additional cost. Call for pricing.
Communal Cremation
This type of cremation is typically performed when clients do not wish to receive their pet's cremains back. Your pet will be placed in the crematory with two or three other pets at the same time and then their cremains will be scattered at our Anderson Animal Hospital location. Communal cremations are the least expensive of all cremation options.