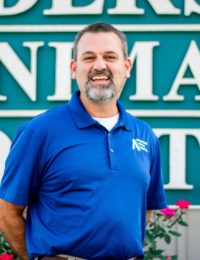 Dr. Jeffrey Phillips DVM – Dr. Phillips is our Head Veterinarian and owner with 25 years of Vet experience. He grew up on a dairy farm in Mercer County and knew at a young age that he wanted to become a vet. Dr. Phillips worked as a vet assistant in a busy small animal practice in Lexington while attending classes at both Murray State University and University of Kentucky. He then attended Auburn University College of Veterinary Medicine and graduated with high honors in 1996.
Dr. Phillips practiced as an associate veterinarian for six years at a mixed animal practice and seven years at Commonwealth Animal Hospital in Harrodsburg before becoming the owner of Anderson Animal Hospital in 2009.
Dr. Phillips enjoys the challenges of veterinary medical and surgical cases. His special interests are soft tissue surgery and endocrinology cases. He hopes to see Anderson Animal Hospital continue to develop as a full service, state of the art facility that will continue to help strengthen the bond between pet and owner.
Dr. Phillips is happily married to his wife Tonya. They live in Harrodsburg with a son, Nathan, and a daughter, Lyndsey. In his free time, he enjoys spending time with family, taking care of his small farm, and mowing the lawn (He loves mowing the lawn). He has 3 super sweet dogs, 2 cats that hate each other, and a farm full of cows and calves.
Attended Murray State University and University of Kentucky – Pre-Vet Medicine
Graduated from Auburn University College of Veterinary Medicine with high honors
Member of American Veterinary Medical Association
Member of Kentucky Veterinary Medical Association
Member of Ninevah Christian Church